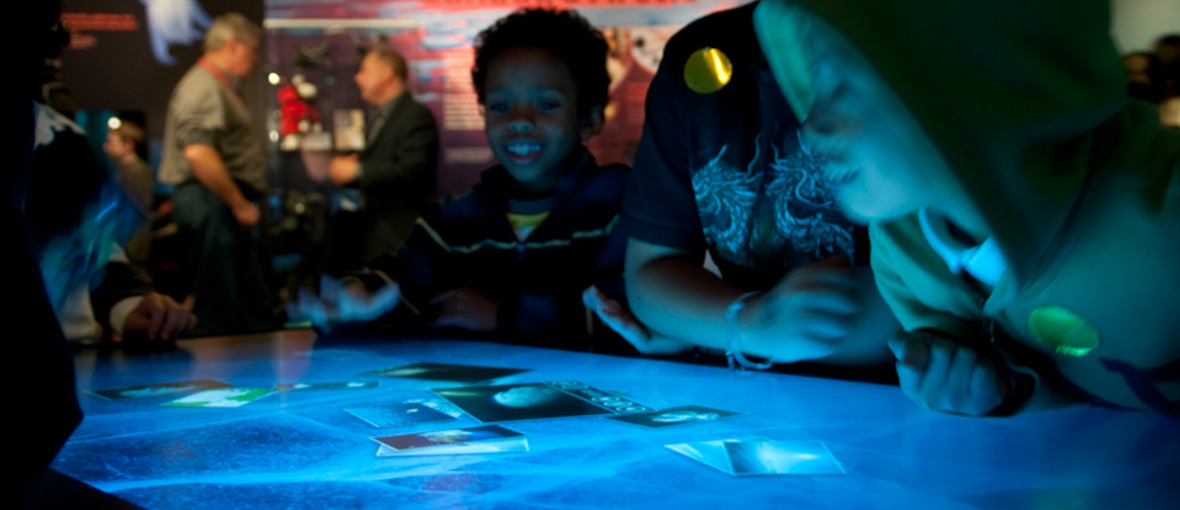 Eight years ago, Ideum and an extraordinary group of creative partners received a grant from the National Science Foundation to develop and disseminate Open Exhibits, "a free suite of original, multitouch-enabled, open source exhibit software." The idea was to develop software that museums large and small could use and modify, and to develop a community of practice to share emerging approaches in digital exhibit design. After eight years of innovation and sharing, it is time to announce that the forum is closing to new input. The exhibit-development landscape has expanded and evolved in numerous ways in recent years, and many free or inexpensive exhibit design and development tools are now available that were unimaginable a decade ago. However, as the Open Exhibits application is still in circulation, we will continue to make the software freely available as long as it is useful to the community.
The NSF funding that initially supported Open Exhibits ended 4 years ago. Since then, we have been very fortunate to keep the forum operating, in part with funding by the Institute of Museum and Library Services (IMLS MG-30-0037-1) with another collaborative project called Omeka Everywhere. Ideum was pleased to match the funds we received from IMLS on a dollar-for-dollar basis.
This project involved the development of a multitouch table and mobile application utilizing Open Exhibits software and drawing from Omeka's digital collection content management system. The project team included the Roy Rosenzweig Center for History and New Media at George Mason University, and The University of Connecticut's Digital Media and Design Department.
We are proud of the work that we accomplished over the project's eight year run. During that period, the field experienced massive changes in how digital exhibits were designed, developed, and evaluated. Over the history of Open Exhibits, we had thousands of downloads of our software and gathered for wider dissemination hundreds of papers on interactive technology, exhibit design, usability, and the future of museums. In addition, we also developed experimental applications that were well ahead of their time, including Heist, a way to connect mobile apps and touch tables. (In fact, that project paved the way for our later work with Omeka.)
Our website also hosted and promoted the NSF-sponsored Creating Museum Media for Everyone project with Museum of Science, the WGBH National Center for Accessible Media, Audience Viewpoints, and Ideum. In addition, our work with Open Exhibits led directly to the NSF sponsored HCI+ISE Human Computer Interaction and Informal Science Education conference organized with Independent Exhibitions.
As we mentioned, we will continue to make the Open Exhibits software available, and our partners at Omeka are still going strong. Although the forum is closing, Ideum will certainly continue to develop new kinds of exhibits and to work with an ever-increasing range of museums, informal education professionals, and community organizations.
We thank everyone who participated in the project—and we look forward to the next chapter in making exhibits more compelling, social, and impactful than ever before.
by Jim Spadaccini

on February 6, 2012