Our module for Kinect provides a simple solution for authoring gesture-based applications in Flash. Lately, we've been using it in conjunction with our other free Open Exhibits software modules. While the Kinect device itself doesn't have the necessary precision for use with every module, we have successfully paired it with our gigapixel image viewer, our new VR Panoramic image viewer, and with our Google Maps module.
Our free Kinect module works with Community Core Vision (CCV) software, an open source software package for computer vision. We've used this software in the past with various multitouch tables and other installations. Our Kinect module is a "directshow" source filter, a virtualized webcam device that reads data from the drivers released by OpenKinect.
Here's a video showing the Kinect module working with other Open Exhibits software.
There are photographs of the Kinect and Open Exhibits modules on the OE Flickr site.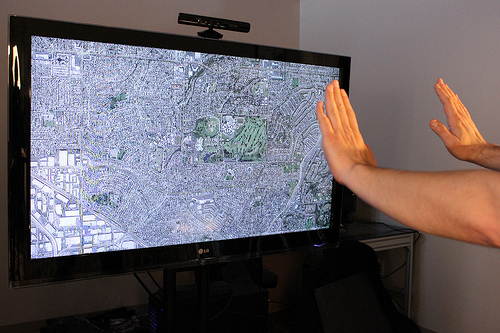 In the video, the gigapixel image of El Capitán that appeared in the example was provided by xRez Studio. The cubic VR image of Chichen Itza was taken by Ideum back in 2005 and is part of the Traditions of the Sun project.
This article is cross-posted at Ideum blog.
by Jim Spadaccini

on February 15, 2011