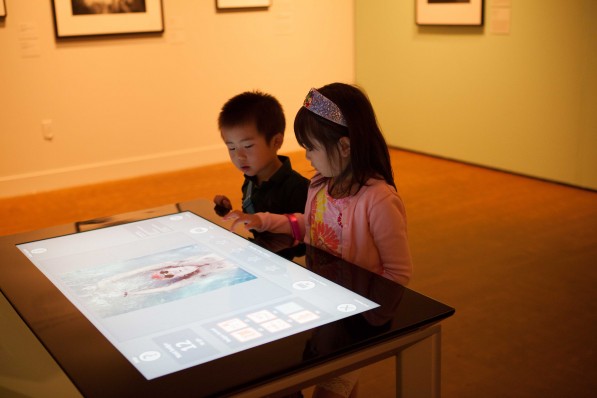 Last month, the Museum of Photographic Arts (MOPA) in San Diego launched its first crowd-curated exhibition entitled Soapbox! The Audience Speaks as Balboa Park's foray into the growing trend of crowd-sourced curation. 
120 images from MOPA's permanent collection were randomly selected for this exhibition. During the summer voting period visitors to the museum rate each of these images to decide if they should appear in the galleries.  As users continue voting, they earn badges.  These badges, along with any of the images, can be shared via e-mail. The top 40 images will be displayed as an exhibition that opens in October of this year.
Soapbox! was developed using the Open Exhibits framework on the Flash platform.  The application is running on a Samsung SUR40 (formerly known as Microsoft Surface) touch table.  The tap and scroll gestures were used in this application for tapping buttons and scrolling through image rankings.  The table is also connected to a larger wall-mounted screen where a larger version of the image may be viewed, making the experience both individual and crowd friendly.
If you are in the San Diego area, be sure to drop by Balboa Park to check out MOPA's Soapbox! exhibit! Users may also cast votes remotely on MOPA's website! 
The mission of the Museum of Photographic Arts is to inspire, educate and engage the broadest possible audience through the presentation, collection, and preservation of photography, film, and video.
by Wesley Hsu

on July 3, 2012