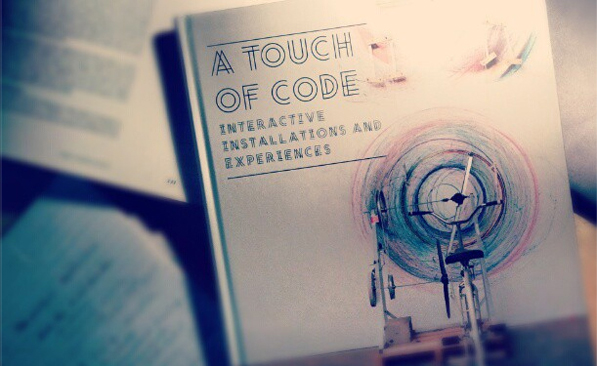 Last week I mentioned the prototype applications that we will be building with Open Exhibits during the next three weeks. To get the creative juices flowing, I checked out the newest addition to Ideum's technical library. Published in 2011, A Touch of Code: Interactive Installations and Experiences documents hundreds of digital installations from the last decade. It includes work of agencies, research labs and independent artists working in the field of interaction design and new media art.
Of all the projects, two stood out for me. The first is Big Screams, a participatory game for mobile devices created by Canadian artist-programmer Elie Zananiri. The concept is similar to Open Exhibits' Heist, which relies on communication between mobile phones and a touchtable. Instead of connecting to a private network as in Heist, players of Big Screams dial a phone number to connect. Once connected, an icon identified by their phone number appears on a giant wall projection. Then the madness truly begins: To move your icon across the wall, you scream into your phone's microphone. The volume of your scream determines how successful you are – scream louder than everyone else to repel their icons and win the game.
I love the spectacle Big Screams produces. Watching the game is nearly as engaging (and deafening!) as playing. In busy public spaces like the British Museum's Great Court it is impossible to involve everyone, so activities that provide an enjoyable experience for passive onlookers are crucial. The ability to play from your own mobile device is also important, and in this case, there are no cross-platform compatibility issues: The voice interface works flawlessly across all types of phones. Heist obviously takes this model a step further allowing users to connect and save information, which has great potential for the way museums work.
Another compelling work is Touched Echo, a sonic intervention in the German city of Dresden created by Markus Kison. Based on the principle that human bones conduct sound, the installation uses engraved plates attached to a metal balustrade to deliver audio content. Users place their elbows on the railing and hands over their ears like headphones to listen to audio clips that simulate the frightening sounds of a World War II air raid. It is a fascinating twist on the traditional audio tour and an inventive way of embedding sounds in the urban landscape. 
Watching the video of people interacting with Touched Echo, I appreciate how it is both a personal and shared experience. Although people listen to clips individually using their own bodies as sounding board, social interaction occurs when others see them using it, or when someone explains how it works. The balance between individual and communal experience is a challenging design problem for multiuser applications, but this work gets it right. I could imagine this technique working well in a natural history or medical museum in exhibits that explore the human body. I wonder too, if it would be effective in historic cemeteries or memorials to resurrect the voices of those who have died. This goes far beyond the scope of implementing applications for screens and tables, but it inspired me to think out of the box about multiuser, multitouch exhibits.
by Shelley Mannion

on August 10, 2012